Friday, August 2, 2019
Unusual weather for August is heading our way overnight into Friday morning. We have a cold front that looks more like October, already on the coast moving inland with steady rain. Along with the rain, we are also expecting unusually breezy conditions for August.
There is a little bit of a difference in model forecasts for winds as shown in the two graphics below. I'm leaning more towards the National Weather Service forecasts, but there could be a stray gust that is stronger than 25mph.
Here are the expected wind gusts for Friday by the
National Weather Service
: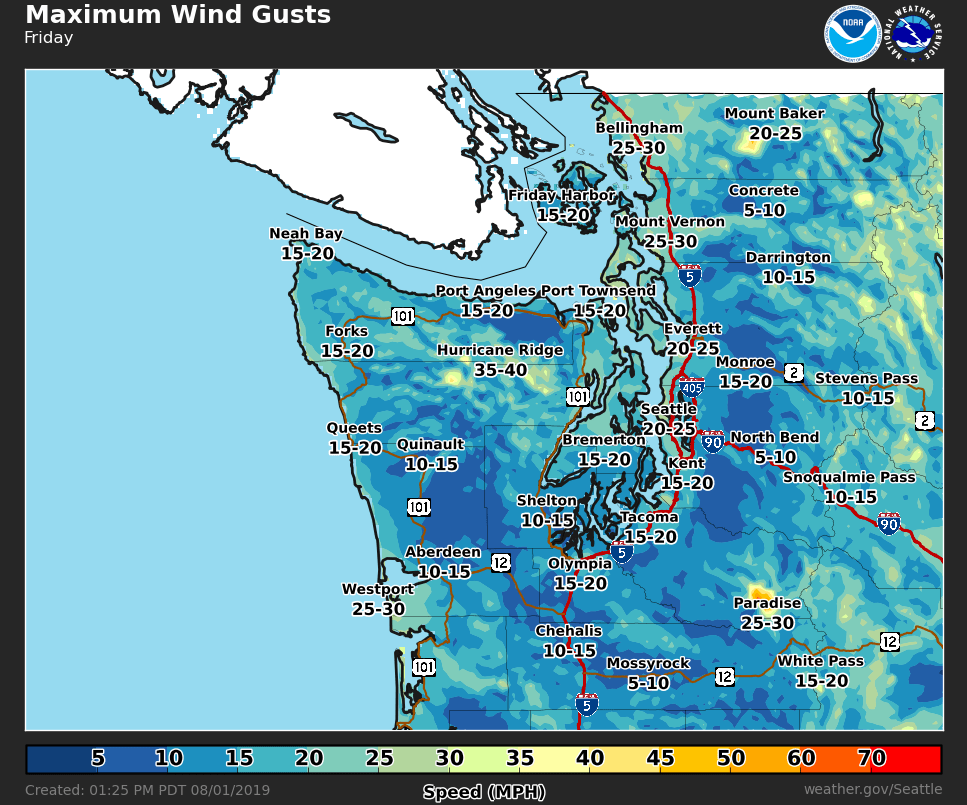 Graphic by National Weather Service

The National Weather Service is forecasting winds of 20-25mph for our local area.

The University of Washington WRF (Weather Research and Forecasting) 4km model is forecasting wind gusts up to 25-30 knots, or 30-35mph.


UW Weather Research and Forecasting model is forecasting 25-30 knots,


Graphics by University of Washington

With trees in full summer foliage, it is remotely possible with these winds to have some tree limbs break off, and maybe even a local power outage. Winds are expected to be fairly breezy from about 4am until around 4pm, with the peak between 10-11am.
Rainfall amounts will be fairly light, enough to get everything wet, but not major. You'll still probably need to water those thirsty plants.
Weekend Forecast: For the weekend we go back to our regularly scheduled summer with dry weather starting Friday afternoon and evening. Saturday we return to sunny skies and highs in the low-mid 80's. Sunday through next Thursday we are also looking at sunny skies, with highs in the mid 80's and lows in the 60's.